OWNER OF AGUA Y SANGRE HEALING

Michelle Castor (she/they) is the owner of Agua y Sangre Healing, a community-centered wellness practice founded in 2013 to create more affirming, competent, and accessible care for BIPOC and LGBTQIA peoples. Michelle is also a Portal Doula, stewarding individuals and communities in and through the portal-like experiences of postpartum and grief and loss.
Prior to starting their wellness practice, Michelle grew up and attended school in Kansas City, MO. After college, she wanted something different and moved to Denver. With a background in psychology, she worked at a youth treatment facility and as a social worker for Head Start and later DPS. During their time with DPS, Michelle worked closely with a teacher who was an herbalist and a bodyworker. Michelle was blown away by the impact their work had on healing and decided to pursue training in the practice. She also valued how sensory work with patients made a big difference in their healing process.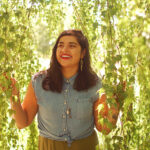 After completing their training and becoming licensed with the State of Colorado, Michelle worked on her business as a side hustle and passion while still maintaining multiple jobs at one time. "I was working up to five jobs when RMMFI came into my world." Michelle had a few friends who had gone through RMMFI's Business Launch Boot Camp and felt very supported right away when she joined the program herself. "RMMFI gave me the tools to see that I could make this a viable business. After the boot camp, I had this stair-step plan to quit one job at a time to make more space for my business. One year after boot camp, I was full-time in my business."
Central to Michelle's work is compassion and nurturing liberated futures through healing justice, ancestral magic, and heart. She is passionate about trauma-sensitive care, grief support, and being a student and steward of transformation. Michelle aims to create safer and accountable containers for individuals and communities to wonder, lean in, and heal through facilitation, trainings, intuitive guidance, herbal remedios, and somatic support.
Recently, Michelle shifted a big part of their business to focusing on being a portal doula, or a postpartum doula, where she guides individuals through significant changes in their life. Michelle is still finalizing some of that shift and hopes to relaunch in the coming weeks.
Learn more about Michelle's work on their website and Instagram page.