Owner of Fifty2Eighty Cosmic Cuts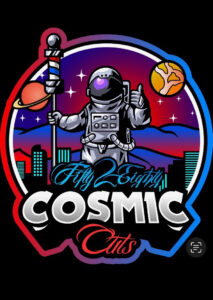 Myles Davis has been cutting hair since 2016, and he's been operating his own barbershop with his business partner for the last two years. The shop is called Fifty2Eighty Cosmic Cuts, because you'll leave looking out of this world! Myles' inspiration for cutting hair came from his grandfather who had been a barber since before Myles was born. He watched his grandfather's success in the business and decided to give it a try for himself. Before opening his own shop, Myles worked at a couple of commercial shops for a few years; it was there that he learned about RMMFI through a client.
Myles' primary goal in pursuing RMMFI's boot camp program was to learn the numbers and get support transferring his ideas into a successfully written business plan, which he was able to achieve, but he also gained so much more. In addition to the ongoing business support after finishing boot camp, Myles took out two RMMFI business loans and has successfully paid both of them off. "The program taught me more than I expected. I learned the ins and outs of how to operate a business beyond just the passion." While Myles primary focus when he started wasn't to take out a loan, the low interest rate and support from the RMMFI team made it really appealing. "Ryan and Patrick were both a big help, and the fact that Ryan has been a client since I opened my business means a lot. Patrick being a fellow barber and friend gave me a lot of insight, and Jeremy was a cool dude too; he helped me get out of my comfort zone."
In addition to all of that, Myles' path to business ownership has allowed him the flexibility he needs to be a dad. "I can shuttle my kids around and make my day work around them, which is one of the most valuable things in life." Myles also shared his contentment when RMMFI announced a partnership with The Second Chance Center. "I went through their program before joining RMMFI, and it was a cool surprise to learn that the two organizations were going to work together. Both are here to do right in the community and I really love that."
Myles has thought about expanding his business into a franchise in the future, but for now he is happy to be where he is at and thankful for a like-minded business partner to help keep things going. You can book an appointment or learn more about Fifty2Eighty Cosmic Cuts on their website.