OWNER OF MISS PEABODY'S SOUTHERN TEA CAKES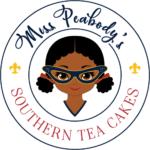 Pamela Richard first thought of the idea for her business, Miss Peabody's Southern Tea Cakes, while watching the Great British Baking Show. With the help of Rocky Mountain MicroFinance Institute, she finessed the idea into a full-fledged baking business offering unique southern sweet treats to the Denver market. Inspired by her grandmothers' baking, Pamela opened her business in 2017 and decided that tea cakes would become her niche. Since then, she has also incorporated pies into her selection, making her one of Denver's favorite pie ladies.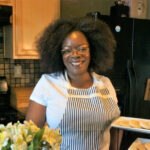 Pamela was a part of boot camp class #2 at RMMFI, and she has stayed involved in the RMMFI community since those early days. Pamela joined the team as a part-time Outreach Specialist in 2019 to help recruit new aspiring entrepreneurs. She has volunteer as a mentor and was a part of the Bamboo Club Leadership Team.
For Pamela, her love for baking is a way to honor her late grandmother, who would often make tea cakes and share them with those who needed a little extra love. Similar to the concept of chicken soup for the soul, tea cakes sooth the heart. Read more of Pamela's story in this recent feature on her in Miss Mayhem, and visit Miss Peabody's Southern Tea Cakes to place a tea cake or pie order!