OWNER OF ZIRCON CONTRACTING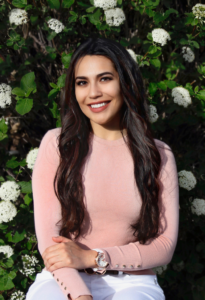 Zaira's passion and understanding of the business of cleaning and construction stems from two places: first, she has always enjoyed the process of cleaning and worked for a cleaning company shortly after school, something she really enjoyed. Second, her boyfriend works for a general contractor, and, through their conversations about work, she became very interested in the A-Z process of a project, quickly realizing that every project needs a final cleanup!
Post-construction cleaning is the final step before general contractors (GCs) turn a new commercial building over to the owner. Zaira's company facilitates and supervises cleaning subcontractors so the GCs don't have to, something that is invaluable for the industry given that this final step of the project can often be overlooked, leaving contractors scrambling to find cleaning companies to get it done at the last minute. Zaira understands the business, is bilingual in Spanish and English, and has the trust of GCs and subcontractors because of her familiarity with both sides. "I can afford to be on site, fit scheduling demands, and be in direct communication with supervisors and project managers — unlike larger cleaning companies who may not have the time to be as involved."  Zaira is also very conscious about providing a comfortable and safe work experience for her subcontractors; this is personal to Zaira because of the stories she's heard from family members who clean for a living about how badly they've been treated by their male bosses and how little respect they had at work, leaving them feeling powerless.  "I want to provide a good work environment and a sense of independence for them."
Zaira has only been in business for a little over a year and has already accomplished so much. She graduated from RMMFI Business Launch Boot Camp Aurora Class #7 this year, successfully completing two projects and securing three contracts while in the program. She also recently expanded the business to cleaning job site trailers on a bi-monthly basis — and all of this just through word of mouth so far!