For Michelle Garcia catering is so much more than food. Catering is love, empathy, and community. Michelle opened Heirloom Catering in 2014 with the goal of making locally-sourced food both accessible and inclusive to everyone.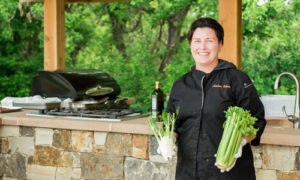 Michelle actually began her business ownership journey when she went back to school for nutrition. Knowing the healing power of food, she thought studying to be a registered dietitian would provide a natural path to learning how to prepare holistic, delicious food. However, as she worked in a hospital for her internship credits, Michelle saw the way patients interacted with food through artificial, pre-packaged ingredients and realized that her philosophy on food did not meld with that of a traditional dietician.
With the instincts and skills of a trained chef, friends and family had urged her to start her own catering company for years. However, it wasn't until the loss of a close family member that Michelle realized that she wasn't living the life she was meant to. She decided to launch Heirloom Catering and hasn't looked back once.
Michelle came to RMMFI's Business Launch Boot Camp to build a foundation  for her new business in a community of mentors and fellow entrepreneurs. But even more than tangible skills, Michelle learned the importance of maintaining her personal foundation. She admits that her relationship with Heirloom has not always been healthy, at times taking over her life even in ways she was unaware of, but as she's grown as a business owner, Michelle continues to learn the interconnections of her personal and business lives. Business decisions like hiring a full-time sous chef, part-time event staff, and a bookkeeper have all allowed her to find more peace in her personal life. Personal decisions like turning her phone off at night, taking vacation, and prioritizing time with her wife and friends have allowed her to have more clarity and focus in her business life.
And it shows in Heirloom's numbers: since its launch Michelle's business has continued to grow year-over-year, and in 2017, she made almost $100,000 in revenue. Her goal for 2018 is $200,000. She also hopes to continue growing her team and plans to hire an "Event Captain", as well as a Head Chef and an Office Manager.
Michelle credits Heirloom's success to her amazing network of "referral warriors" and a diverse community of mentors.  She continues to use RMMFI's lending program to build her business, successfully repaying each of her loans, and stays engaged in RMMFI's community through catering events (like our 9th Annual Sunday Fun Day celebration – Michelle's 5th year!), meeting with mentors, and collaborating with RMMFI Entrepreneurs like Bosco Baking's Jessica Berry.
Her advice to current Business Launch Boot Camp participants? "Be open, stay humble, work hard."