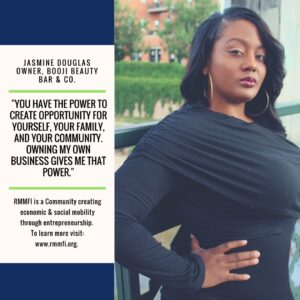 Almost ten years ago, Jasmine Douglas starting doing hair out of her home, with friends and family as her first "clients". While she worked a corporate job to support herself and her three children, hair and beauty had always been Jasmine's passions. However, it was in 2014, following the loss of both that corporate job and a close family member, that Jasmine decided to turn her passion into a business.
After graduating from cosmetology school, Jasmine worked at a local salon for a year, honing her technical skills and building her understanding of the beauty industry. She loved her clients, but a difficult, discouraging supervisor made the work environment toxic. Her dream was to open her own salon, a full-service luxury salon, to fill a gap she saw in the beauty industry for women of color. For Jasmine, the experience of a salon is just has important as the quality of the stylists. For Jasmine, hair is about much more than simply making a woman look beautiful; Jasmine wants women to feel beautiful, confident, and strong. For Jasmine, Booji Beauty & Co. was the answer.
The Rocky Mountain MicroFinance Institute (RMMFI) entered Jasmine's journey after she had been in business for a year. The Business Launch Boot Camp strengthened Booji's foundation through business and financial education in coordination with coaching and support to strengthen Jasmine's personal foundation. RMMFI revealed the "business case" for self-care. She admits that work-life balance is still her greatest challenge but recognizes how critical her personal stability is to the growth of her business.
Whether it be the personal losses that began her business journey, that first salon supervisor, or even childhood bullies who teased her for being "booji", Jasmine has used every challenge as fuel for personal and business success. Ultimately, she envisions Booji Beauty & Co. as a mission-driven business working to support and empower survivors of domestic violence. With her skills and passion, along with RMMFI's ongoing support and capacity-building, Jasmine is using business ownership to generate wealth for herself, her children, and her community.